Weekend Fun: The Wave LED Coffee Table
The Evil Mad Scientists have teamed with Because We Can aka All Wrongs Righted to create a motion-sensing, LED coffee table, dubbed The Wave. The Wave is 62″ long, 31″ wide, and 18″ high and contains 480 LEDs assigned to 32 near-infrared optical sensors. When the space above the table is occupied, the a sensor detects the presence and ignites the corresponding LEDs. If the object moves, the LEDs track the motion with a delightful trail of light.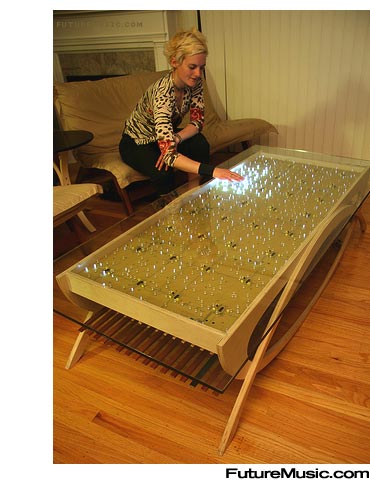 Made of fully analog circuits, the Wave's LEDs glow stronger the closer the object is, and then the light patterns sweep outwards from your motion, like a pebble plopping into a still pond – rippling across with perfect fade-outs. Thanks to the low power requirements of LEDs, the entire unit only draws 35 watts when it is fully active.
Several options are available including the color of the LEDs, and either a plastic or glass top. You can even get the top frosted to hide the innards, letting it lie in wait for unsuspecting guests, and pets.
The Because We Can and Evil Mad Scientists LED table costs $2500 and up. More information on the Wave LED Coffee Table.