Blue Coconut Readying Hardware Echoverb Tape Echo
Blue Coconut Ltd, a UK concern, has announced that their Echoverb, hardware tape echo will be shipping in October. The Echoverb was designed by Terry MacDonald, an authority in the field and features 6 replay heads with one record and erase head, offering 6 different delay times, which can be used in any combination along with a tape reverb mode too.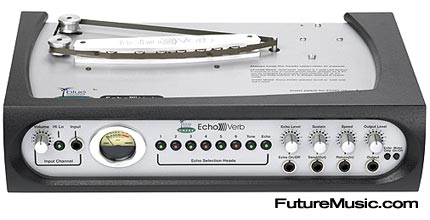 MacDonald spent two years of research and development, leveraging his experience with the Watkins/WEM company which built tape echo units in the 60's to develop a totally new design, rather than a copy. His goal was to eliminate all the problems associated with early tape echo machines, improving the performance, whilst retaining the unique analog tape echo sound which has never quite been captured with digital hardware or software based plug-ins. A couple of the improvements include extremely low noise circuitry and the ability to select any combination of 6 available heads. Also, a precision custom made fly wheel ensures no noticeable pitch deviation (WOW and Flutter), compared to that of the old tape echo device.
For the musician, the front panel has hi/low gain jack inputs for instruments along with a separate jack insert and return for guitar pedals, and an echo on/off jack footswitch. On the rear of the unit, line level transformer balanced XLR's are provided for professional studio applications. Front panel controls include input gain, echo level, variable speed, sustain, and output levels along with tone/EQ and echo bypass. An optional aluminium and Perspex head guard is available separately and a sliding rack mount tray with built in storage compartment for tape loops, head cleaner etc.
Unity Audio Ltd are involved in this project as the exclusive distributors for the Echoverb and have formed a new company, Blue Coconut Unity, to develop and market additional products.
Blue Coconut's Echoverb will be shipping at the end of October for a retail price of £1600. More information on Blue Coconut Echoverb.