Hosa Does Digital – Announces Cue 5 Monitors
Hosa Technology, known primarily for their analog and digital connectivity solutions, has announced the Cue 5, their first all-digital monitoring system designed specifically for the desktop composer. The Cue 5 system features Hosa's Binary Drive, which extends the user's all-digital signal path to include the onboard speaker amplification. The Cue 5 contains a 5.25-inch LF transducer and 1.5-inch silk-dome tweeters with zero intermodulation distortion and what Hosa claims is a virtually non-existent noise floor. The Cue 5 system accepts 24-bit/96 kHz signals directly via optical or coaxial S/PDIF inputs. Bundled control software for Macintosh and PC enables users to tailor the unique sound stage of the Cue 5 system for critical listening in any environment. This lightweight, cool-running monitoring system is the ideal choice for desktop recordists, mobile DJs, and digital music enthusiasts.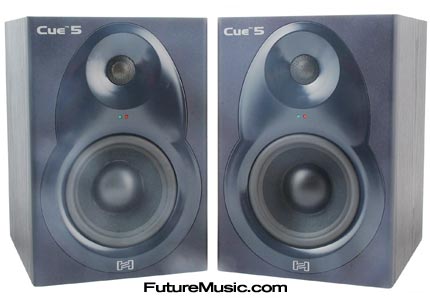 Features:
• Zero intermodulation distortion
• Zero noise in Toslink and S/PDIF modes
• Expansive analog and digital connectivity options enhance portability
• Source digital signals up to 96kHz directly via either Toslink or S/PDIF
• Amplify analog signals digitally via onboard A/D converter
• Customize EQ presets for up to eight different recording environments
• Light weight
• Runs cool
• Remote controllable via computer
• Speaker Dimensions: 8.875″ x 7.0″ x 10.1875″ (D x W x H)
At the heart of the Cue 5 system's pioneering design is Binary Drive, an all-digital signal path featuring integrated Class-D amplification. This technology enables a digital source signal to remain entirely in the digital domain from the input until it reaches the transducers. It also eliminates the preamp D/A converter as well as the electronic frequency crossover found in most biamplified designs.
The transducers themselves serve as the system's D/A converter. Similarly, since it is unnecessary to separate the highs from the lows before the amplification stage, intermodulation distortion is non-existent. The result is music that leaps forth from a background of absolute silence, music that is absolutely true to the source, with life-like stereo imaging. This enables musicians and engineers alike to make informed decisions regarding their mix.
Binary Drive delivers 30w per channel to a pair of 2-way studio monitors, each coupling a 5.25-inch LF transducer with a 1.5-inch silk-dome tweeter in a bass reflex enclosure featuring an oblong rear port. This rear port is a critical element in the enclosure's design, as it reduces the turbulence and distortion commonly associated with poorly designed round ports. The system's frequency response ranges from 65 Hz – 20 kHz. In addition to both optical and coaxial digital inputs, the Cue 5 system offers balanced XLR and unbalanced RCA analog inputs.
The Cue 5 All-Digital Studio Monitoring System includes special control software for optimizing the monitors to the listening environment. Compatible with both PC/Windows and Mac OS, the Cue 5 system's control software includes 6-Band parametric equalization with one-click bypass, independent Volume, Bass, Treble, Mute, plus Left-Right Balance, and Programmable Auto-Fade In/Out among its many features. With eight user memory locations for storing configurations and provisions for system access via Ethernet or RS232, the Cue 5 system enables one to precisely match the monitors with the room, further ensuring that one's mixes translate correctly to a wide variety of playback mediums.
Heavy power transformers and heat sinks are unnecessary in the Binary Drive all-digital environment, and thus the Cue 5 are relatively lightweight. Another benefit of the Binary Drive design is its cool-running operation. Most conventionally-powered studio monitors emit considerable heat.
The Hosa Cue 5 All-Digital Studio Monitoring System will cost $899 per pair, and will be available sometime this summer. More information on the Hosa Cue 5 Digital Monitors.