Apple Looking To Evolve iPods & iPhones Into Remote Controls
According to a recent patent filing, Apple is developing wireless technology that would allow iPods and iPhones to act as remote controls. The next generation devices would act as digital music/video gatekeepers to relegate digital media from computers running iTunes libraries to home entertainment systems via a digital hub such as AppleTV.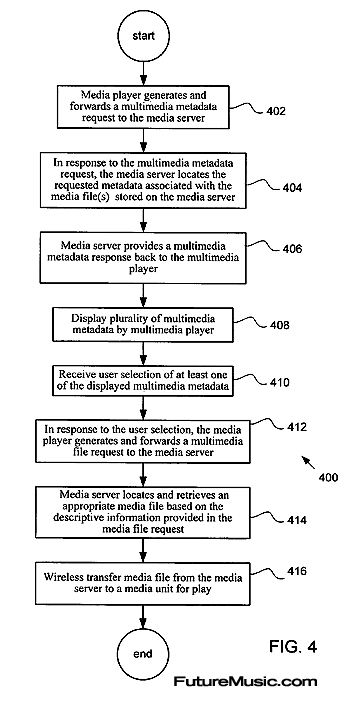 Apple's idea is to untether the consumer from their computer whenever they want to select a new song or video. In today's systems, Apple stated, one must physically be at their computer to dictate what media gets played via a home entertainment system. In other words, if a listener is in a living room listening to music being streamed to a living room based stereo by a computer wirelessly linked thereto located in an upstairs den, changing the song being played would require the listener to physically walk to the upstairs den where the computer was located and select the desired song.
Thus, what is needed is a system that leverages existing devices (such as an iPod, AirPort Express, a Mac running iTunes) to provide the remote access and control that would otherwise require the purchase of specialized equipment such as zone controller units and zone players. To solve this dilemma, Apple cites their iPod will have the capability to wirelessly access and control a media server that is streaming digital media by way of a wireless interface to a home entertainment system.
In addition, a portable digital multimedia player remote could be calibrated to store multimedia media file metadata used to wirelessly control a remote media server. Under this method, the remote controller unit would include a wireless network interface, a display device arranged to display a user interface having a number of user selectable items, and a processor unit that in response to a user selection of one of the user selectable items would generate a signal that is wirelessly sent by the wireless network interface to the remote media server.
The Future: Oh, just think of the hacks a savvy programmer could achieve with this device…