The Jig Is Up! Sony Unveils iPod Docks
Sony has revealed the ICF-C1iP iPod clock radio and ZS-S2iP iPod boombox, finally surrendering the fantasy that their Walkman portable music players will capture the hearts and imagination of the public.
Andrew Sivori, director of personal audio products in the Digital Imaging and Audio Division at Sony Electronics, dished this nuggest of wisdom in their press release: "Consumers are treating the iPod as a format, like the compact disc, which is why Sony is now delivering audio products to support it."
Designed to work with most iPod models, the ICF-C1iP clock radio accommodates standard iPod adapters, but does not require their use. An adjustable backstop mechanism ensures that the iPod fits snugly and securely to the clock radio's 30-pin connector, and charges the iPod while it's docked. An included wireless remote control provides full access to the iPod's menu, as well as to radio tuning and volume functions.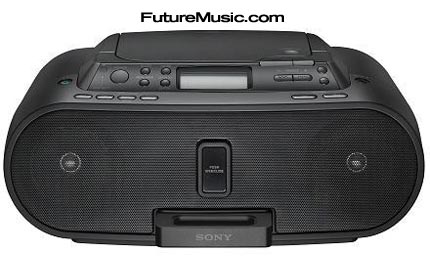 The ZS-S2iP, Sony's newest boombox works with most iPod models and charges the iPod when docked. It includes a built-in digital AM/FM tuner, an integrated CD player that supports CD-R/RW playback and a wireless remote control with full iPod menu access. It also incorporates Sony's Mega Bass® Sound system.
The Sony ICF-C1iP iPod clock radio and ZS-S2iP iPod boombox come in either black and white and will be available in August for about $100 at Sony Style stores and at authorized dealers nationwide.