VirSyn Updates Poseidon To Version 1.4
VirSyn has updated Poseidon to version 1.4. The new version introduces PoleZero filter technology for modelling very complex resonant characteristics with up to 8 bandpass/notch filters.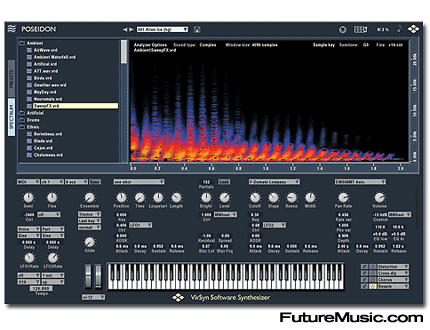 Enhancements:
• PoleZero Filter with up to 8 bandpass and 8 notch filter with morph function between two filter parameter sets. You can use two parameter sets named Filter A and Filter B to interpolate between two resonant structures in realtime with the Morph parameter. There is also a Cutoff parameter, which lets you move the complete filter structure up and down in the frequency range in realtime.
• New filter for emulation of analog 24 dB lowpass
• 50 new presets demonstrating the new filter types
• Bugfixes:
— Mac/PPC: Crash on image import
— Timing of MIDI program change messages improved
— Filterparameter with type sensitive labels
The VirSyn Poseidon 1.4 update is free for registered users. More information on the VirSyn Poseidon 1.4 update.