Weekend Fun: Carver Skate Board Trucks
Carver Skateboards, a new concern out of California, USA, has developed and patented a new skateboard truck that allows the rider to carve deep turns and rip cutbacks like Kelly Slater.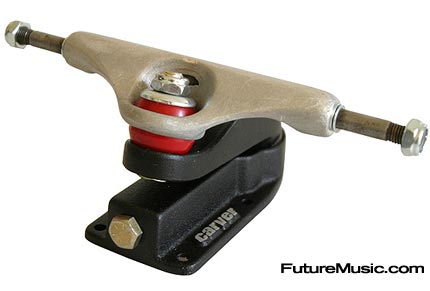 The Carver C7 Ultimate Surfing Truck System combines a discreet front and rear truck assembly to achieve true "surfing on the street." We've seen snowboard/skate systems before, namely the Freeboard, but the Carver channels surfing style. The C7 allows the rider to bust close radius turns and pump the skateboard to create the sensation that you're truly surfing asphalt or your loft. To demonstrate their point, and for yuks, the kids at Carver even mounted their special trucks on a real surfboard and took it for a spin down a hilly street in San Fran.
According to the company it was "conceived by surfers at Venice Beach during a long and waveless summer." Waveless California summers have a knack for spurring invention — i.e. the Zephr Skate team's discovery of empty pools in the '70s. Well the same dilemma ignited those listless Venice kids and got them to focus on a new system that would capture the essence of surfing like never before. Emulating a surfboard, the back truck acts as the fin, and the front truck acts as the rocker or rail curve. The two combined increase lateral movement so you can "pump" the board. The original patented Carver C7 front truck is 6.5″ wide, yet extremely maneuverable. Smooth arm rotation rides on a 1-5/8″ precision thrust bearing set, and the heavy-duty internal spring has a wide range of tension adjustment so you can thoroughly customize your ride.
The Carver Ultimate Surfing Truck System costs $129.99, and a full-on system with board will set you back $189.99. More information on Carver Ultimate Surfing Skateboard Trucks.