Defective Records Software Updates Major Malfunction To Version 1.5
Defective Records Software, aka, Dan Nigrin has updated his Major Malfunction plug-in for Ableton Live to version 1.5. The new version of the Mac OS X realtime audio plug-in allows users to easily to "FSU" audio in Live. Mangle, warp, glitch, hack, slice and dice, and go absolutely nuts, in either subtle or extreme ways, with Nigrin's plug-in, which can be used as either a VST or an AU plug-in.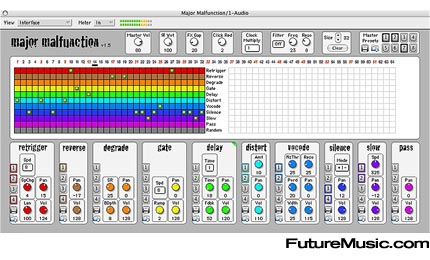 Enhancements:
• New effects: distortion, vocoder, slow down, and silence
• New enhancements to gate effect
• New master multipass filter
• New click reduction
• New "effect gapping"
• New clock multiplier
• New randomize and evolve functions for effects
• Grid state and all parameters now saved with Live session
• Improved preset management
• Improved automation support
• New ability to turn hints on/off
• New undo feature
• Now works correctly with Novation automap controllers
• Now supports multiple instances of plugin in one Live session
• Efficiency improvements "under the hood"
• Various bug fixes
Defective Records Software's Major Malfunction 1.5 costs only $15 bucks and is available now. Version 1.5 is free to registered users. A demo is also available for download. More information on Defective Records Software Major Malfunction 1.5.