reFX Updates Nexus – Announces Bass & Stratosphere Expansion Packs
reFX has updated Nexus, and released two new expansions for their ROM synthesizer. Here's their totally over-the-top product description: "Nexus is a next generation rom synthesizer of highest quality that will make your dreams come true." (My dreams come true?? How about a Lifetime Membership to the Playboy Mansion and all the Old Wexford I can drink? –Ed.) "Nexus explores new territory and delivers complex, ultra-fat and up-to-date soundstorms that could not sound any better from the most expensive and best hardware – all at the tip of your fingers."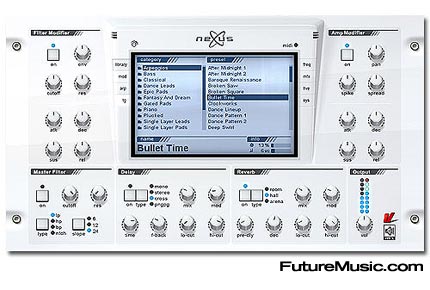 Features:
» Over 4 gigabytes of previously unreleased sample material
» Over 650 presets including all popular genres
» Expandable. Three expansions available. More already in production. New samples and new presets
» Production quality built-in reverb (ArtsAcoustic)
» Skinable. Five skins to choose from
Enhancements:
» Filter- and Amp-Modifier can now also be locked and switched off globaly, just like the master-filter, the master-delay and the reverb can.
» The voice-stealing was too conservative which resulted in clicking. The new approach is absolutely click-free, but could increase performance usage slightly.
» The trance-gate was prone to clicking in certain cases.
» Internal optimization and minor bug fixes.
New Expansion Packs:
"Stratosphere"
Extremely dense pads, full of life filtersweeps, endless atmospheres – all of this is the basis of the stratosphere expansion! Also numerous unique sounds, such as human whistling or bottle blows, are found here. This expansion makes massive use of the new features introduced in Nexus 1.3 like the poly-arp. Get ready to take off! This expansion contains 128 spherical trance sounds.
"Bass"
Low basses, squealing basses, fat basses, slim basses, distorted basses, pulsating basses… Here, they are all united and make the hearts of electro fans beat faster! Also recommended for trance – these basses will make the dance floor vibrate! This expansion contains 128 electro bass sounds.
reFX Nexus costs $299 and is available now. More information on reFX Nexus.