Blue Man Group Inspired Drumsticks
A German concern has created Blue LED drumsticks for the Blue Man Group aficionado. They only come in size 5A and are a little heavy, but they do reportedly create a dynamic effect, especially in low-light enviromnents.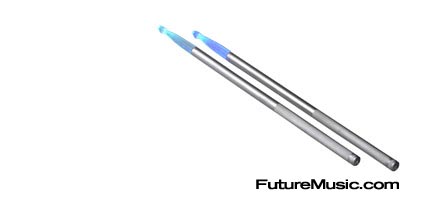 A far cry from the old days of painting your drumsticks with fluorescent paint and mounting a blacklight, the LED Drumsticks are battery powered and will last approximately 100 hours…although your mileage may vary.
The only caveat is that heavy hitters may pound off the tips if they're not careful. However, for a one song effect, they could be cool in the right circumstances…
The LED Drumsticks cost $32 bucks and are available now. More information on the LED Drumsticks.