Sibelius Software Updates Sibelius To Version 5
Sibelius Software has updated Sibelius to version 5.0. This is a major refresh to the powerful music notation software. Sibelius 5 contains the latest advances in the leading music notation software, and includes new features that users have requested. Sibelius 5 has many new features specially targeted to capturing that moment of inspiration…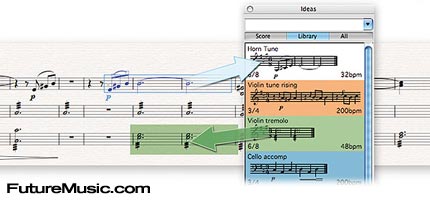 Ideas Hub: Ideas Hub makes it easy for users to capture, tag, find and bring together their musical ideas. Composers can quickly capture snippets of music they have written, tag them with keywords – such as, 'violin', 'tremolo', 'minor' etc. – and then find them again in an instant. Ideas can then be pasted from the hub into a score, and are automatically transposed into the right key and range, as well as the right tempo. Ideas Hub also comes pre-loaded with over 2000 professionally-written ideas that cover all genres of music, from classical through to hip-hop. These are perfect for inspiring music students, and for users wishing to try their hand at new styles of music.
New built-in sounds & playback: Sibelius 5 comes with Sibelius Sounds Essentials as standard – a 2GB collection of sounds selected from top-name libraries by Garritan, SonicVox and Tapspace. As well as these new built-in sounds, Sibelius 5 offers full VST & Audio Units support for the first time. This enables users to playback their scores using renowned sample libraries such as the East West Quantum Symphonic Orchestra or Vienna Symphonic Library. Playback is handled by Kontakt Player 2, the latest version with much improved performance.
Sibelius 5 enhances the realism of playback by handling accents, articulations, hairpins, etc. better than ever before. A further improvement to playback is SoundWorld, a new way of categorizing sounds that ensures Sibelius always chooses the most suitable sound available on any device.
Panorama offers a clear, wide view of music that enables faster composition, easier revisions and, in education, clearer analysis of entire pieces. Instead of being chopped up into systems and pages, the music is shown in a single, infinitely-wide strip – far easier to read and navigate around. Users can now just think about the notes, and forget about page layout until ready to print.
Easy cues & instrument changes makes creating instrumental parts faster than ever before. Users simply select any section of music they want to cue, copy it to the clipboard, and use the new Paste as Cue feature to produce a perfect cue. Sibelius 5 even suggests cue locations, and will proof-read them before printing. Changing instruments mid-staff, for example a clarinet to alto saxophone, is also simplicity itself thanks to the new Instrument Change feature.
Sibelius 5 also offers users complete and easy layout control, covering bar and page numbering, blank pages, sheet music margins and more – making it easier than ever to produce beautiful scores.
An elegant new music font – Reprise – produces a realistic simulation of hand-copying, plus Sibelius 5 can show chord symbols and allow teachers to write the names of notes within noteheads. Sibelius 5 also enables functional analysis and includes extra music symbols for writing early music and avant garde.
Sibelius 5 also offers many new plug-ins, including tools for splitting, joining and modifying tuplets, cleaning up played-in music, fitting music to video and transforming one scale into another, for example minor to pentatonic. The total number of available plug-ins for Sibelius is now over 80, and with Sibelius 5, users can now undo plug-ins.
Sibelius 5 costs $599 and is available for Windows and Mac OS X. Demo versions are available. More information on Sibelius 5.