LG Updates Chocolate Music Mobile For Verizon
Verizon Wireless has announced the new LG Chocolate VX8550, the successor to their popular music phone. The VX8550 is slightly smaller and featurs a new keypad with touch feedback, and "Trace Motion." Two new colors have been added to the orginal dark brown model, Black Cherry and Blue Mint. Sadly the rumored 3.5mm jack didn't make it into the final spec.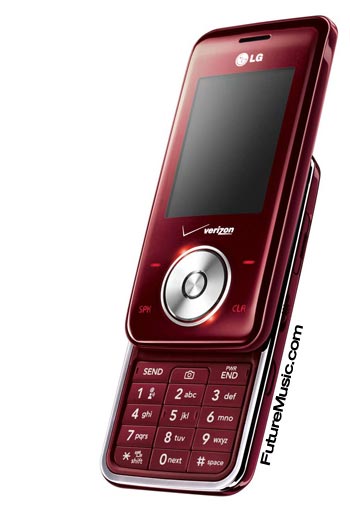 The new Chocolate offers advanced multimedia features such as a microSD memory slot that supports up to a 4GB card, a music player, a powerful speaker for music, dedicated keys for easy access to stored music, and is V CAST-capable.
Features:
• Music player for MP3 and WMA songs
• Powerful speaker for music
• Dedicated key for easy access to the music player
• Background music – music plays in the background while sending messages, browsing the Web, etc.
• My Music – songs are automatically organized by artist, genre and album
• Music only mode (RF off except Bluetooth)
• MicroSD memory up to 4GB
• 1.3 megapixel camera and camcorder: 1280 x 960, 640 x 480, 320 x 240 pixels
• V CAST Video
• Video player for MP4, 3GP, 3G2 formats
• Set videos (under 5MB) as wallpaper
• Video resolution: 176 x 144 pixels, Video format: 3G2, Zoom: up to 2x
• Self-timer: three, five or ten seconds
• Image editor – zoom, rotate, crop
• Bluetooth Profiles
• Speaker-independent voice commands: call, send message to, go to, check, lookup, play,
• Text, picture/video messaging
• Mobile Web 2.0SM
• Web-based e-mail, instant messaging and chat
• Flash user interface for clear images, text and fun animations
• Phone book with 1,000 contacts – each stores five numbers, two e-mail addresses and a picture ID
• Frequency 1.9 GHz CDMA PCS, 800 MHz CDMA (digital dual-band)
• Data transmission high-speed EV-DO
• Dimensions: 3.85" (h) x 1.87" (w) x 0.67" (d), Weight: 3.24 oz.
• LCD 262K color TFT, 240 x 320 pixels, 11 lines
• Up to 250 minutes of usage time or up to 350 hours of standby time
The Verizon Chocolate VX8550 should be available on July 9th. More information the Verizon Chocolate VX8550 by LG.