Weekend Fun: The Grass Chaise Lounge
Well, this certainly gives new meaning to the term "Lawn Chair"…
The wacky kids at Fung + Blatt have created a chaise lounge chair made out of real grass…we kid you not, look at the picture below!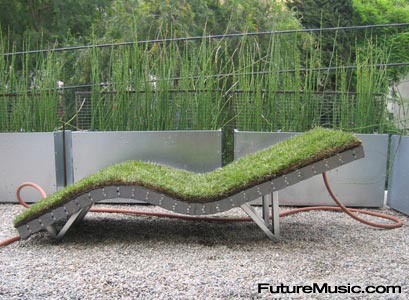 The Lawnchair is made out of an aluminum frame with renewable elements of rubber and felt. The "contoured" chair houses a nice bed of sod and comes complete with its own irrigation action, dubbed a "moisturizing system," that allows even distribution of moisture under the sod, thereby minimizing evaporation and run-off. The lawnchair comes in a choice of 3 bases: a concrete footing base, a lightweight double-V metal base and a caster base for greater ease of mobility. One downside, now you have to mow your chair…
No pricing or availablity has been announced. More information on the Fung + Blatt Lawnchair.