Stanton's Dorwart Misfires With Cartridge Facelift
For some reason, Stanton DJ has decided to spend a load of their development and marketing dollars on restyled DJ cartridges. This is yet another shining example of why we are critical of this concern and believe the company is mismanaged.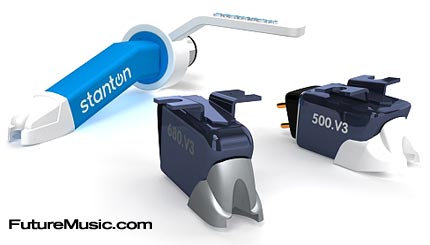 Instead of spending their money to develop a new cartridge, or another innovative product, the concern has made the decision to retool the molds and incorporate their tired on/off logo into the design. If your so concerned about your branding, just create a new logo screen for printing. To redesign the cartridges without incorporating new ergonomics is just plain silly.
Here's their marketing copy in their own words:
The new marketing campaign will include a number of artist testimonials such as Roc Raida, Kool Herc, Johnny Juice, Annalyze, and other prominent turntablists, edgy advertisements, a focus on the company's history, and an interactive micro-website that is set to launch later this summer.
Who Cares??
What's amazing is that here the company is developing a "interactive micro-site" — yet, it takes them months to update their stantondj.com site whenever they release a new product.
The Future: After the announcement that Timothy Dorwart would take the reins of Stanton in March, we're dumbfounded that the redesign of their cartridges and a new micro-site would be the first big promotion. A cartridge facelift is certainly not worthy of this type of chest-pounding. Stanton really needs to take a good look at themselves in the mirror, and decide if they're going to innovators or imitators.