DigiTech's Vocalist Live 2 With musIQ Now Shipping
DigiTech is now shipping the Vocalist Live 2 vocal harmony and effects floor processor. The Vocalist Live 2 is the first vocal harmony processor employing the powerful technology of musIQ which accurately creates multi-part harmony by analyzing guitar chords. There is no tedious programming or knowledge of complicated music theory needed. Simply play any guitar chord and the Vocalist Live 2 knows exactly which harmony to create. The user can choose from a 3rd or 5th above or below or unison to create up to 2 part harmonies.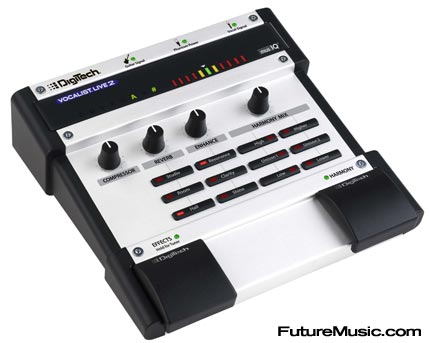 Features:
• Selection of lead voice effects; Compressor, Reverb and EQ
• 24-bit/44.1kHz audio quality
• On board chromatic guitar tuner
• XLR mic /line input with level adjustment, low-noise preamp and +48V phantom power
• 1/4″ guitar input, 1/4″ guitar pass-through and guitar ground lift
• Stereo 1/4″ line out and mono XLR out
• Rugged road worthy all-metal chassis
Vocalist Live uses breakthrough musIQ technology to directly analyze the output of any electric or pre-amplified acoustic guitar (no special MIDI guitars or hex-outputs needed). This information is then fed to an advanced harmony engine that creates harmonies consistent with both the singer's melody and the underlying guitar accompaniment. For example, if you're singing an A over the chords that are generally found in the key of G, Vocalist will harmonize with a C. But, if you then play an A major, Vocalist 2 will shift to the C#.
DigiTech's Vocalist Live 2 is now available for $499.95. More information on the DigiTech Vocalist Live 2.