Forever For Now Updates Reverse Sampler To Commercial Version 2
Forever For Now has released Reverse Sampler 2, the commercial successor to the free original version. Reverse Sampler 2 is a real-time reverse delay Audio Unit effect for Mac OS X Universal Binary. Reverse Sampler 2 is not going to win any GUI design awards, but if reverse delays are your thing, you should check the demo.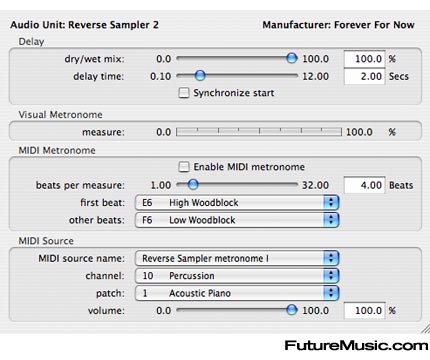 Features:
• Real-time, zero latency processing for smooth live and studio performances
• Integrated visual and MIDI metronome
• Delay time synchronization via automation
• Reverse delay times up to 12 seconds
• Extensive user manual
Forever For Now's Reverse Sampler 2 is available now for Mac OS X and costs $9.99. As mentioned above, a demo version is available. More information on Forever For Now Reverse Sampler 2.