Soundcraft Unveils 3 New Multi-Purpose Mixers
Soundcraft has announced three new Multi-Purpose mixers, the MFX, the EFX and the FX16ii, with built-in Lexicon 24bit effects. The new Soundcraft effects mixers use the same AudioDNA processor featured in many of the Digitech and Lexicon outboard products including the highly respected Lexicon MX500. With over 35 years experience, the Lexicon name is synonymous with the best reverb and processing in the business, providing the finest quality effects ever found in a console at this price level. The consoles also boast a user settings store function, 3 parameter controls, tap tempo and 32 effects presets.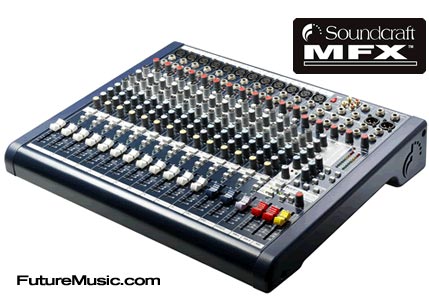 The first new mixer in the range is the Soundcraft MFX, a Soundcraft MPM with built-in Lexicon effects. The MFX is the most versatile of the Multi-Purpose range with two group busses, two aux sends, one FX send on each channel and two stereo input channels, all offered in 3 frame-sizes – 8, 12 and 20 inputs. The combination of a wide range of features and world leading Lexicon effects makes the Soundcraft MFX the perfect solution for many venues including theatres, small music venues, restaurants and houses of worship.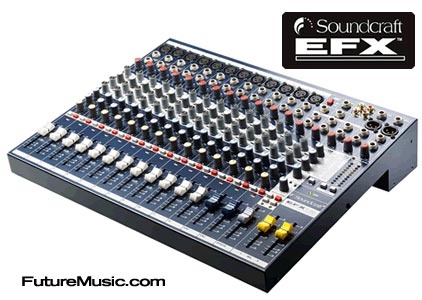 Second is the Soundcraft EFX, a Soundcraft EPM mixer with built-in Lexicon effects. Representing the smallest console in the Soundcraft multi-purpose range the EFX offers a professional solution in a smaller frame-size, available in 8 and 12 channel variants. Featuring the highly regarded GB30 mic preamps (designed by Graham Blyth for the popular Soundcraft GB series), one aux send and one FX send on each channel, the EFX is equipped to deliver the famous Soundcraft sound in a multitude of applications.
Last out of the gate is the Soundcraft FX16ii. Already established as an immensely popular console, the Spirit FX16 has been offering professional audio solutions to musicians since 1997. Ten years on, Soundcraft has brought the FX16 into line with its professional range using the latest 24-bit digital Lexicon effects processor and a new control surface layout. All the FX consoles are versatile but the FX16ii will be particularly popular with recording musicians thanks to its 26 inputs, 16 direct outputs, 4 stereo returns and rotating connector pod which allows cables to be connected conveniently behind the rack to save space.
The Soundcraft FX range use the latest PCB surface mount technology which means that more features can be fitted into a rugged, compact frame. All the consoles can be rack-mounted through optional rack kits.
Soundcraft has not announced pricing or availability. More information on the new Soundcraft Multi-Purpose Mixers With Lexicon Effects.