Sonalksis Releases TBK3 Dynamics Processor
Sonalksis has released TBK3, a dynamics processor. Beneath the simple interface lies an analog-modelled compressor that can be pushed to the limit giving it a unique sonic character that's suitable for creating edgy sounds and textures.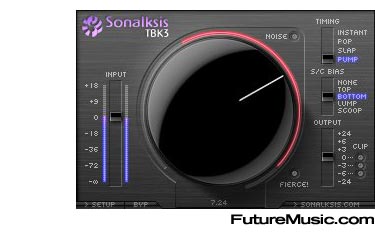 TBK3 takes advantage of the digital domain to extend analog circuit designs far beyond their normal physical capabilities, enabling a level of creativity not normally associated with this type of processor. This Ãœber Compressor can be used to simply bring lackluster sound back to life, or to mutate audio into apocalyptic soundscapes.
Like the other plug-ins in the Sonalksis Creative Elements range, the TBK3 is efficient, intuitive and direct – and therefore very simple to use, providing great results with minimal effort.
Features:
• Extreme analog-modelled compression algorithm
• Optional 'true analog noise' colouration
• Four selectable fully adaptive attack/release modes
• Modifiable side-chain filter character
• 64bit floating point precision internal processing throughout
• Ultra efficient processing, with specific optimisations for native processors
• Zero latency throughput -no internal signal delay
Sonalksis' TBK3 is available now for €120. More information on Sonalksis TBK3.