SoundFonts.it Releases VB3 Virtual Organ
SoundFonts.it has released an old time virtual tonewheel organ dubbed the VB3. The American-style, electro-magnetic organ is also capable of other simulations including the Italian transistor organs of the 70s or the Red-Tolex organs from the 60s.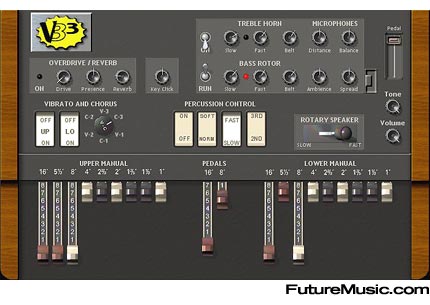 Features:
• Full polyphony (183 notes)
• Virtual 91 modeled tonewheels generator with accurate phase synchronization
• Adjustable leakage noise and cross modulation between tonewheels
• Three sets of waveforms: Set H (American Electromagnetic), Set F (Italian Transistor), Set V (Red Tolex Transistor)
• Busbars and 9 key contacts simulation
• 17 steps drawbars
• String Bass with adjustable release time
• Dynamic pickup coil impedance loss
• Adjustable generator filters scaling
• Single triggered percussion with natural capacitor discharge/recharge
• Vibrato/Chorus virtual scanner
• Dynamic tube preamplifier simulation
• Tube overdrive simulation
• Spring reverb
• Smooth action volume pedal
• Stereo wooden rotary speaker simulation with artificial environment and microphones positioning
• Rotors brake position
• Adjustable background hum and noise
• Low CPU
• MIDI controllable, supports VST automation
SoundFonts.it's VB3 costs €39 and is available as a VST instrument plug-in for Windows. A demo version is available for download. More information on the SoundFonts.it VB3 Virtual Organ.