Equalizer Unleashes The BPM Watch
Equlizer, the Japanese watch concern, has released The BPM, a digital watch made for DJs. To use the BPM feature simply hold the central button until you enter BPM mode, then just tap the rhythm of the track and the watch displays the Beats Per Minute. The counter has a working range of 25 BPM to 200 BPM.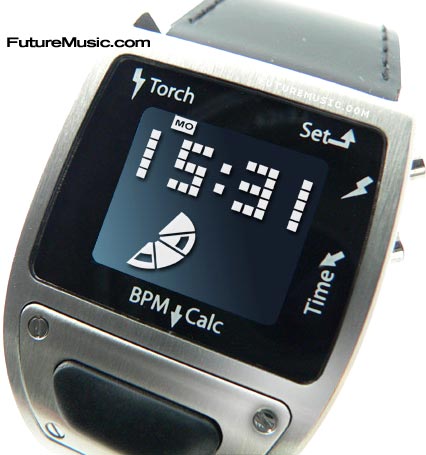 In addition to the customary time and date, the BPM also has the ability to scroll messages including: "The roof is on fire!" – "They're workin' up a sweat!" (Now if that doesn't get the party started, we don't know what will! — Ed.)
The best feature of the BPM watch is the mini-flashlight – useful in a dark club for finding the right vinyl, or more importantly locating your frosty beverage. The watch uses a hybrid LCD / White LED display.
Features:
• Date / Time
• BPM counter
• Solid Stainless Steel Case
• Mini-Flashlight
• English & Japanese Instructions
• 1 Year Warranty
The Equalizer BPM watch will set you back $65 / €49. More information on the Equalizer BPM watch.