Sonic Studio Updates soundBlade To Version 1.2
Sonic Studio is now shipping soundBlade 1.2. soundBlade is a general purpose production tool, designed to record, edit, process, restore and deliver audio on CD, DDP or as AIFF, WAV or BWF files for further processing. Particularly well suited to handle the difficult tasks of mastering, soundBlade is available in two versions: soundBlade native and soundBlade accelerated. soundBlade native is a host–based version that employs your Core Audio interface for I/O functions and passes Core Audio for the processing steps that count.
soundBlade accelerated takes the mandate for highest fidelity one step further by leveraging our Series 300 DSP I/O processors to not only yield wire with gain performance for I/O but also provide a direct connection to the hardware's plentiful DSP for ultra–low latency and highest fidelity during processing.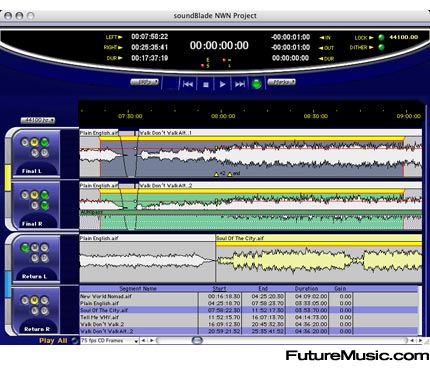 Running natively on the secure and user friendly Mac OS X, soundBlade relies on Core Audio for default I/O so hardware lock-in is eliminated. The application combines Sonic Studio's famed EFM and 4 point editing capabilities with their SSE real time audio engine and exceptional options such as Series 300 DSP I/O processors and the NoNOISE II suite of restoration tools.
The 1.2 release incorporates hundreds of optimizations and stability enhancements as well as almost two dozen feature additions, including the highly anticipated 8 Channel option for surround work. Combining Sonic Studio's benchmark premastering functionality with the signal processing, restoration and comprehensive editing that mastering engineers have requested.
soundBlade costs $1,495. More information on Sonic Studio soundBlade 1.2.