Monome Unveils 40h/se Special Edition Controller
Monome has announced a special edition controller dubbed the 40h/se. This is a pimped out version of the Monome 40h we informed you about in April 2006. There will only be 16 units available, so if you're interested, act immediately since the original run of 400 40/h's got snapped up pretty quickly.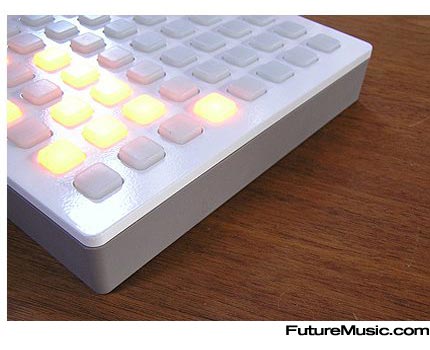 The monome 40h is a reconfigurable grid of sixty-four backlit buttons. Buttons can be configured as toggles, radio groupings, sliders, or organized into more sophisticated systems to monitor and trigger sample playback positions, stream 1-bit video, interact with dynamic physical models, and play games. button press and visual indication are decoupled by design: the correlation is established by each application.
Special Edition Features:
• internal accelerometer detects motion and tilt which can be dynamically mapped to different parameters
• white powdercoated top plate
• bright orange leds
• custom grey or white base enclosure
The 40h/se communicates serial, midi, and open sound control via USB. It plays well with max/msp, pd, processing, Reaktor, Flash, Java, Ruby, and many others. All 40h software and firmware is open source to facilitate a community of shared exploration.
The monome 40h/se costs $800, part of which will be donated to Heifer International. More information on the monome 40h/se.