Alienware Drops The Hanger18 Digital Entertainment System
Alienware has released their home entertainment system extravaganza: Hanger18. The snappy looking component comes equipped with an AMD Athlon 64 X2 dual-core CPU, 720p or 1080p resolution, dual TV tuners, an onboard 5.1 amp, HDMI out, and a host of other goodies. The 18 will accept up to 4GB of memory and 2TB of storage space and comes with a Gyration remote/mouse.

The Hanger18 allows you instant access to your video, music and personal digital content, and with Internet connectivity you can download movies from Netflix, tracks from Napster or other media that you may find online…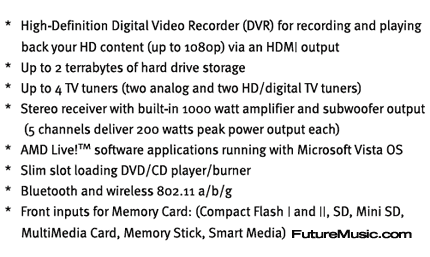 The Alienware Hanger18 system is available now with a starting price of $1,999. More information on the Alienware Hanger18.