db audioware Updates Quantum FX To Version 2.5 (Universal Binary)
db audioware has updated Quantum FX to version 2.5. The modular effects software update includes tweaks to the Quantum FX Workbench and Universal Binary for Intel Macs.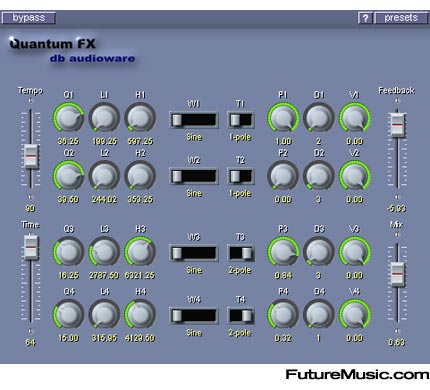 Enhancements:
• Universal Binary for Mac OS X
• Workbench Analysis Tools – Oscilloscope & Spectrum Analyzer
• VST 2.4 support
• Support for PNG graphics, with alpha masks (variable transparency), for plug-in GUIs
db audioware's Quantum FX 2.5 retails for $299 / €269 / £189 and is available for immediate purchase and download from their website. There is a special upgrade deal for existing owners of Quantum FX 2. A trial version is also available for download. More information on the db audioware Quantum FX 2.5 update.