Schaack Audio Technologies Releases Quad
Schaack Audio Technologies has released Quad, a "Vinyl-controlled MP3 Mixing and Scratching Software" solution, which allows connecting up to four turntables to a PC using Windows XP or Windows 2000. With Quad and an ASIO soundcard with Phono Inputs (1 Stereo pair per Deck) or Line In's (with Phono Preamp), you can mix and scratch up to 4 sources simultaneously. Schaack claims that the scratching quality and response times are exceptional.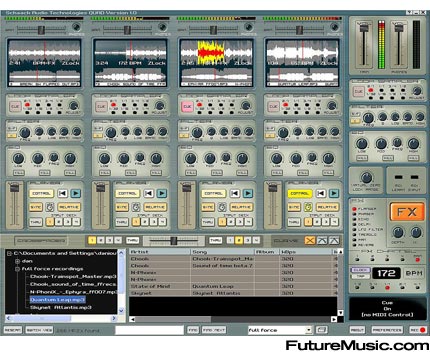 Features:
• Advanced Timecode Vinyl Tracking System
• Automatic Tempo-Matching of up to 4 MP3's
• Beat-matched Cue Samplers and FX
• 3-Band parametric mid Equalizers
• SVF (State Variable Filters) and X-Filters
• Full MIDI Control possible using Midi Learn
• Explorer-like Browser and ID3-Browser
• ID3 Tag editing possibilities
• Organization of MP3's in cases
The Quad has full MIDI implementation allowing the user to connect any MIDI controller or MIDI DJ Mixer to the software that sends out Bc xx yy messages. Quad's MIDI Learn feature provides the user the ability to assign every knob, fader, button and switch to any controller. Schaack states that an Intel-Based PC or Laptop with at least 256MB RAM and 1GHz processor will support the software, but recommends a top-level system for optimum performance.
Schaack Audio Technologies Quad costs €89 and includes 4 Timecoded Vinyl records and a registration code, which is needed to order further Timecoded records at €15 a pop. More information on Schaack Audio Technologies Quad.