Creative Debuts Zen WAV MP3 Player
Creative has announced the Zen WAV MP3 player. The 2GB WAV has suddenly appeared on their website without any fanfare and features an all-aluminum chassis with a 1.5-inch, 65,000 color TFT LCD screen, a built-in mic with line-in dubbing, FM tuner, and houses micro stereo speakers.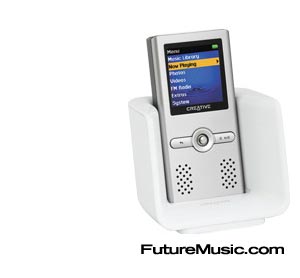 Although it's called the WAV, it does plays back MP3, WMA, and AVI in addition to WAV files, and supports eBooks. Creative claims that the WAV has 30 hours of continuous music playback with your earphones or up to 20 hrs if you are listening with the built-in stereo speakers. The WAV also features an alarm clock…
The Creative Zen WAV costs about $120 bucks if you're in Singapore, but the rest of the world should see this puppy by the Fall. More information on the Creative Zen WAV Digital Player.