Future Sonics Debuts New ATRIO Series Earphones
Future Sonics has announced the new ATRIO Series earphones. Even though most of their high-end competition has gone to multiple drivers, the ATRIO contains a single driver by choice. Future Sonic claims that multiple drivers creates not only crossover dead spots, but also electronic artifacts, comb filtering and phase issues. In our most recent Earphone Shootout, the multiple driver earphones scored quite well, so we'll just have to get our grubby fingers on a pair to substantiate Future Sonic's claims.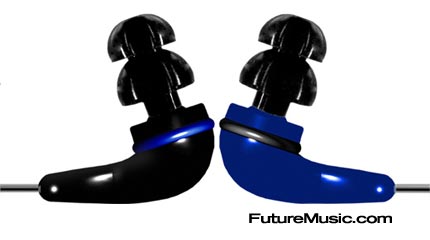 The concern does make some tidy ear monitors, but that doesn't always translate to proper earphones. However, Future Sonics is backing up their product with a 30 Day Money Back Guarantee. Now that's putting your money where you ears are…
Features:
• mg5 professional drivers
• truetimbre frequency response
• can upgrade to customized fit
• 100% armature-free design
• crossover-free architecture
The Future Sonics ATRIO Series Earphones come in Blue or Black and will cost $199. More information on the Future Sonics ATRIO Series Earphones.