Weekend Fun: The Ninja Remote
Think Geek has introduced a new weapon against remote control bullies. Dubbed the Ninja Remote, this stealthy device will allow you to take control of almost any television and change the volume and channels. Simply point the Ninja Remote at a television set you want to take control of and press the mute button for a few seconds – once the TV mutes the remote is now ready to assume full control of its "slave."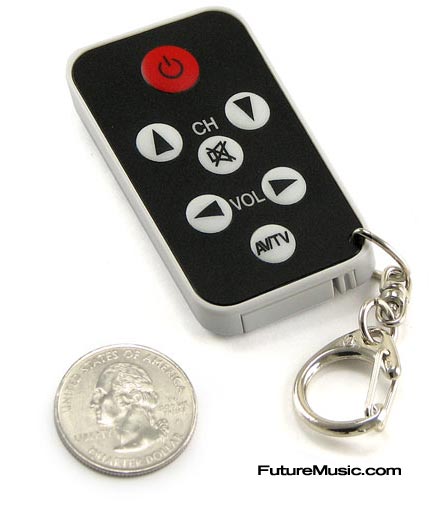 My secret mission was taking the Ninja to the gym. I often sneak out of the office at lunch for a little workout, but find the multiple teles dominated by soap operas, Judge Judy shows, and other junk. I make like I'm adjusting my iPod nano (with the ninja tucked behind it) and take over without anyone being the wiser.
The Ninja Remote will reportedly work on a wide variety of televisions including Sony, Panasonic, Samsung, Toshiba, Sanyo, Aiwa, Mitsubishi, Philips, JVC, Sharp, and more.
Features:
• Tiny Universal remote, easy to operate
• Control volume, channel, mute, off/on
• Takes one CR2032 battery (included)
• Will work on most European TVs
• Keychain attachment
• Dimensions: 2.3″ x 1.4″ x .25″ (5.8 x 3.6 x .6 cm)
The Think Geek Ninja Remote retails for $9 bucks. More information on the Ninja Remote.