Crysonic Releases Spectra C1 Compressor Plug-In For Windows
Crysonic has announced the release of Spectra C1, a wideband Compressor VST Plug-in for Windows. Spectra is suitable for voice, instruments, track compression and subtle soft-knee mastering compression and expansion. Spectra C1 utilizes Crysonic's proprietary Physics based Audio processing engine allowing the characteristics of the final audio to be easily adjusted to taste.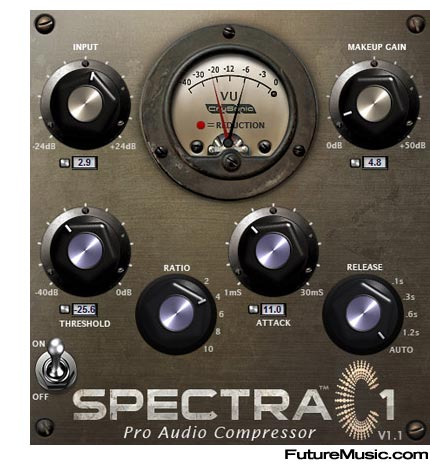 Features:
• No Latency
• 64-bit internal precision
• 24bit/96Khz audio support
• Physics Based Wide-Band Compressor / Expander
• New Gain-Reduction and VU meter
• Mono-compatible
• Reportedly retains the tonal character of original audio
• Full automation for all parameters via the host
The Crysonic Spectra C1 compressor VST Plug-in for Windows costs $59.95 but is available for the introductory price of $49.95 until 4th June 2007. All Previous Crysonic Customers can purchase Spectra C1 for $29.95. More information on the Crysonic Spectra C1 compressor.