The Centre for Digital Music Releases Sonic Visualiser
The Centre for Digital Music has released Sonic Visualiser, a free application for viewing and analyzing the contents of music audio files. The goal of the developers was to design a tool for musicians so they can study a musical recording, rather than simply listen to it. Sonic Visualiser contains advanced waveform and spectrogram viewers, as well as editors for many sorts of audio annotations. Besides visualisation, it can make and play selections based on the locations of automatically detected features, seamlessly loop playback of single or multiple noncontiguous regions, synthesise annotations for playback, and slow down playback while retaining display synchronisation.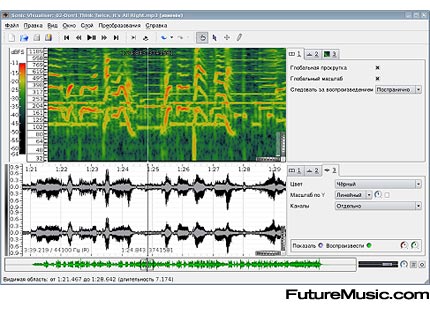 Features:
• Load audio files in WAV, Ogg and MP3 formats, and view their waveforms.
• Look at audio visualisations such as spectrogram views, with interactive adjustment of display parameters.
• Annotate audio data by adding labelled time points and defining segments, point values and curves.
• Overlay annotations on top of one another with aligned scales, and overlay annotations on top of waveform or spectrogram views.
• View the same data at multiple time resolutions simultaneously (for close-up and overview).
• Run feature-extraction plugins to calculate annotations automatically, using algorithms such as beat trackers, pitch detectors and so on.
• Import annotation layers from various text file formats.
• Import note data from MIDI files, view it alongside other frequency scales, and play it with the original audio.
• Play back the audio plus synthesised annotations, taking care to synchronise playback with display.
• Select areas of interest, optionally snapping to nearby feature locations, and audition individual and comparative selections in seamless loops.
• Time-stretch playback, slowing right down or speeding up to a tiny fraction or huge multiple of the original speed while retaining a synchronised display.
• Export audio regions and annotation layers to external files.
Sonic Visualiser is distributed under the GNU General Public License. More information on Sonic Visualiser.