Sennheiser Introduces PXC 450 Headphones
Sennheiser has introduced the PXC 450 Headphones. The PXC 450 is a circumaural high-end travel headphone set with NoiseGard 2.0 technology and TalkThrough function for the best possible attenuation of ambient noise.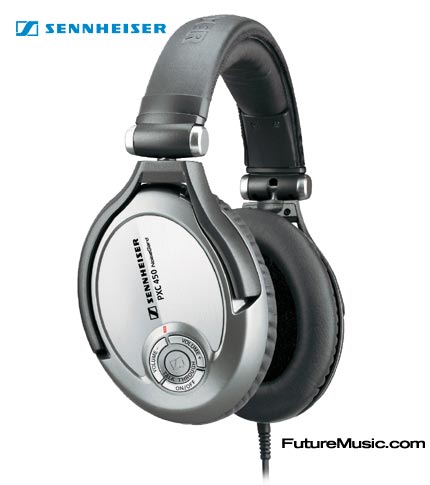 The PXC 450 contains adaptive baffle damping in combination with the patented Duofol diaphragms, which prevent unwanted partial oscillation and thus guarantee a highly natural, lifelike sound quality. NoiseGard is an active noise compensation system which Sennheiser originally developed for use by pilots, who have to rely on good sound quality and efficient protection against ambient noise even in high-noise environments. NoiseGard actively compensates the noise, based on the physics principle of sound and counter-sound.
NoiseGard 2.0 has perfected the principle thanks to the use of optimised circuitry design and even more efficient processors. It also uses better quality microphones, which enable more sophisticated pick-up of unwanted noise. Specially developed filter algorithms enable improved active noise compensation of up to 90% (23 dB). It is of course also possible to use these headphones passively, i.e. without NoiseGard and without batteries.
The PXC 450 houses a unique "mute" features; when the TalkThrough function is activated, professional quality microphones mounted on the outside of the headphones pick up all acoustic signals in the immediate vicinity. Unwanted background noise, such as the sound of the engines on a plane, is filtered out electronically to a great extent, so that only the neighbor's voice is passed on through the headphones into the user's ear in top audio quality.
The PXC 450 is foldable and is supplied complete with practical transport case, 2 AAA batteries and audio adaptors (double mono and 6.3mm). Volume control integrated in the headphones and a single-sided detachable and replaceable cable ensure maximum convenience for the user.
Features:
• Adaptive baffle damping and patented Duofol diaphragm technology
• NoiseGard 2.0 active noise compensation provides protection against ambient noise (up to 90.0%)
• Circumaural ear pads and padded headband
• TalkThrough function
• Volume can be adjusted directly on the headphones
• Foldable headphone design
• Comes with transport case, 2 audio adaptors (in-flight entertainment and 6.3 mm), batteries
• 2-year warranty
Sennheiser has not officially released pricing information but expect them to retail for around $800. For more information on the Sennheiser PXC 450 Headphones.