Rippe Releases Vox Doctor II
Jeff Rippe has announced Vox Doctor II, a multi-band vocal de-esser. Vox Doctor II splits the critical audio "Ess" frequencies into three frequency bands using "transient perfect" linear phase crossovers. The audio levels in these "Ess" bands are then compared to the overall signal level and adjusted by Vox Doc to the desired levels. Since only specific high frequency bands are affected the resultant sound is very transparent and "musical".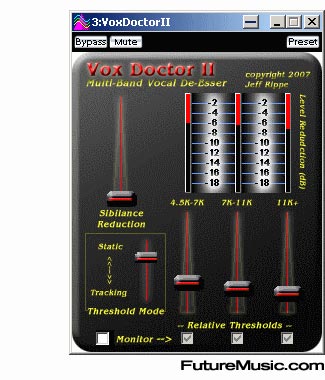 Vox Doctor II has a continuously variable "Threshold Mode" control which allows the user to select a level tracking mode, absolute threshold level mode or any combination in between. In this way, Vox Doctor II can track a vocal as its level rises and falls or, in "static" mode, reduce levels that exceed an absolute limit (like a typical compressor). The actual audio being removed can be heard using the "Monitor" checkbox and the individual band checkboxes.
Vox Doctor II is designed to be used as an INSERT on both STEREO and MONO vocal tracks (the processor will produce no output when used as a SEND effect). Jeff's website looks like it was designed in 1996, so you may want to get ready to duck if you see a spinning logo…
Vox Doctor II will set you back $30 and is available as a VST effect plug-in for Windows. A demo version is available. More information on Vox Doctor II.