AraldFX Announces StormGate3
AraldFX has announced StormGate3, a new gating effect, which lets you create new and unheard rhythmic parts from virtually any kind of audio material.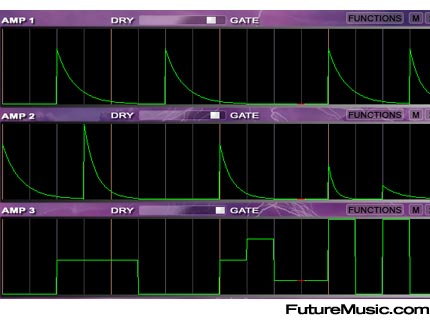 StormGate3 splits the audio in three bands, and lets you shape each audio band with amplitude patterns. Patterns can be drawn freely by hand, or with the aid of powerful drawing tools. Within seconds you can transform a static pad into an almost complete rhythmic part, create new rhythms from vocals, instruments, noises of any kind, or even create amazing drums parts out of pure noise. StormGate3 can take any audio source, and after calibrating the cross-over frequencies, you will be able to record a new envelope pattern.
AraldFX's StormGate3 will be available by the end of this month for Windows and Mac OS X Universal Binary in the VST format, with an Audio Unit version expected at a later date for $59. You can also pre-order StormGate3 for $39, which includes a copy of SG3 (beta), and free lifetime updates up to version 2.0. In addition, the beta version of StormGate1 for Windows is available for free. More information on StormGate3.