RME Announces DMC-842 Digital Microphone Interface
RME will debut the DMC-842, the first multi-channel interface for digital microphones at AES. The DMC-842 also acts as a power supply and control device for digital microphones, supporting the worldwide AES 42 standard.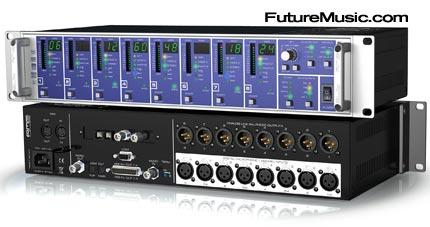 Supporters of the Mode 1 and Mode 2 operating systems specified in the AES 42 standard currently include, among others, Neumann and Schoeps. Mode 1 permits an asynchronous operating system in which the microphone is supplied with Digital Phantom Power (DPP), but no control data can be transmitted upstream.
Working with several Mode 1 microphones requires the use of sample rate converters, which have already been implemented in the DMC-842. Mode 2 allows microphones to be synchronized and control data for adjusting gain, polar patterns, hi-pass filter and compression settings to be sent. Further functions are already specified in the AES 42 standard and availability depends on the individual microphone.
The cost of running digital microphones with a DMC-842 is comparable with that of many standard analog microphone-preamp/converter set ups. What's more, it affords greater ease of use, with better quality and enhanced functionality – depending on the application. The ability to switch the Digital Phantom Power on or off on individual channels means that the DMC-842 can handle "normal" AES/EBU signals at the same time. Thanks to the built-in SRC (sample rate converters), these can also be asynchronous.
To adjust the various microphone parameters, RME has produced a free Windows-based software application that communicates with the DMC-842 via MIDI. As with Micstasy, the DMC-842 also supports the transfer of MIDI data over MADI as well as over AES/EBU-Signals. All the main microphone parameters are also directly accessible from the unit itself.
The RME DMC-842 will retail for €3050 and be available during the 3rd quarter of 2007. RME is also offering the unit with an optional I64 MADI card. Customers who only want to connect Mode 2 microphones can ask for the DMC-842 to be supplied without the built-in sample rate converters. More information on the RME DMC-842 Digital Microphone Interface.