Tagu Audio Line Unleashes Free Vintager VST Monosynth
Tagu Audio Line (TAL) has unveiled Vintager, a simple, monophonic VST instrument that they claim has the "functional range and sound of classic analog synths." The free Vintager features a non-linear modelled 24dB lowpass filter, three bandlimited oscillators and accurate envelopes.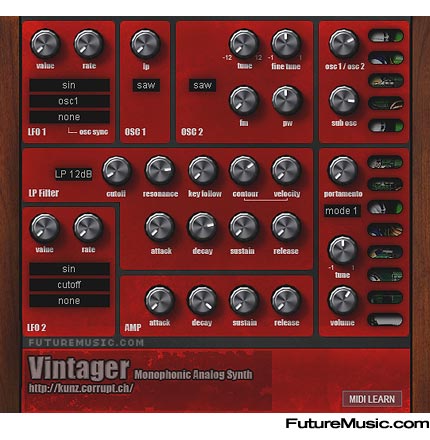 TAL asserts that this VST synth is suitable for all kind of analog and percussive sounds, including sounds that are based on the self oscillation of the filter and a wide range of sound effects.
Features:
• Two oscillators with FM and PW (saw, pulse, triangle, sine, noise)
sub oscillator (rectangle, two octaves deeper)
• 24dB low pass filter with self oscillation
• two precise non linear envelopes (filter, amplitude)
• two lfo's with five different waveforms to modulate filer, pitch, fm and pw
• portamento (three different modes)
• midi learn for all potis
• 20 different presets (bass, leads, effects, percussion)
• all sample rates supported
• low CPU
Tagu Audio Line's Vintager is free. More information on the Tagu Audio Line Vintager VST monosynth.