AudioWarrior Releases Acoustic ACID Chord Strummer
AudioWarrior has released The Acoustic ACID Chord Strummer, a ACIDized WAV Library from producer Greg Giametta. The Chord Strummer allows you to paint seamless, perfectly strummed Acoustic Guitar Chords in any combination at any tempo from a palette of 336 chord strumming variations.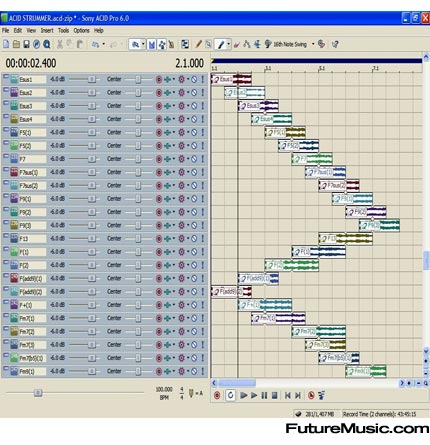 The embedded ACID media file 'ACID Strummer' makes it possible to have all of the chords available on one screen for lightning fast "Paint & Play" composing. 'Brush' in any of the 336 available chords into a grid position, type in your project tempo and press play, voila, you're off to the races. Layer 2 Chords and create unheard-of strumming styles and variations.
Sweeten The Mix with any of the included Track FX such as Chorus, Flange, Reverb, Parametric EQ. In addition to the full palette of 336 chords on one screen, you can easily drag drop and paint individual looped strumming chords into your existing project where needed. The looped chords will automatically sync to your project tempo. Paint them in any order, in any length, next to any other chord. Each chord contains multiple Variations that can be adjusted to produce an unlimited number of royalty-free compositions that fit perfectly to the length of your project.
Designed For The ACID Product Family, including: ACID Pro v4 to v6, ACID Music Studio, American Idol Extreme Music Creator, ACID Pro 6, PC Windows XP/Vista
The AudioWarrior Acoustic ACID Chord Strummer retails for $99, but is now available from their website for $49. More information on the AudioWarrior Acoustic ACID Chord Strummer.