Blue Sky Announces EXO 2.1 Monitoring System
Blue Sky has announced the launch of EXO 2.1, a complete, full-range studio monitoring solution. The system consists of an 8″ powered subwoofer, Left/Right 2-way satellite speakers, and an desktop remote hub. The hub allows the user to monitor and manage a large assortment of peripherals via the XLR / TRS, RCA and 3.5 mm mini jack inputs. To make the EXO as compact as possible, the sub contains the amplifiers and bass management circuitry for the entire system.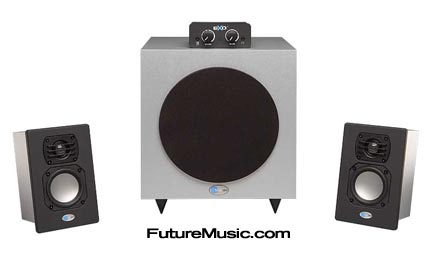 Features:
• True, full-range stereo monitoring system
• Two – 3″ 2-way satellites, with 1″ soft-dome tweeter
• Separate 8″ subwoofer, for extended low frequency response
• 160 Watts of total system power (35W per satellite, 90W subwoofer)
• Convenient desktop remote control and connection hub
• XLR / TRS inputs for pro mixers and DAWs
• RCA inputs for computer soundcards and CD players, etc.
• 3.5mm mini jack input for iPods and mp3 players
• 3.5mm headphone jack
The Blue Sky EXO 2.1 will retail for $399 and begin shipping in mid-June '07. More information on the Blue Sky EXO 2.1.