IK's AmpliTube Jimi Hendrix Now Shipping
IK Multimedia has announced that the AmpliTube Jimi Hendrix that we told you about in January is now shipping. Based on IK's AmpliTube 2 and made in cooperation with Authentic Hendrix, LLC., AmpliTube Jimi Hendrix is the first authentic software recreation of the complete guitar amp and effects rig of Jimi Hendrix available in a single product, offering a vintage collection of stomp, amp, cabinet, and effect models that made a legendary sound.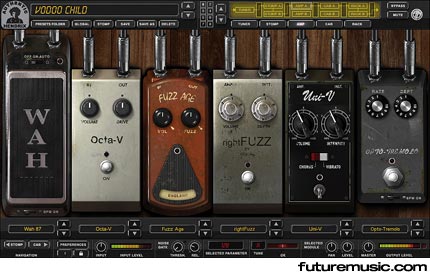 Though it shares the same easy-to-use functionality as AmpliTube 2, AmpliTube Jimi Hendrixâ"¢ offers over 20 new models never included before, such as models based on the Vox Wah V846, Maestro FuzzTone, Univox Uni-Vibe, several Roger Mayer fuzz stomp pedals, the Marshall 1959 JTM100 Super Lead, the Fender Twin Reverb and Dual Showman amplifiers and other rare vintage gear.
AmpliTube Jimi Hendrix features 9 vintage stomp effects, 4 vintage amp models, 7 cabinets, and 5 mics, putting a complete collection of extremely expensive and hard-to-find gear right at your fingertips, from rare and highly sought-after stomps such as the Wah used by Hendrix, which became his signature sound in masterpiece tunes like Voodoo Child, and a model based on the Maestro FuzzTone, who's sound is best recognized from the popular Rolling Stones hit (I Can't Get No) Satisfaction, to Amp-head models that cover the entire range of amps that Hendrix used with The Experience, both in the studio and live. All the matching cabinets of the included Amp-heads are featured in the selection of 7 available cabinets. The cabinets were accurately modeled and recorded with 5 vintage microphones, including condenser, dynamic and ribbon microphones. Also included are 4 rack effects (Rotary Speaker, Stereo Reverb, Parametric EQ, and Tube Compressor), increasing the tonal flexibility of the product and allowing you to sculpt the sound even further.
IK Multimedia's AmpliTube Jimi Hendrix will retail for $249 / €199. Until July 31st, 2007, all IK registered users can purchase an AmpliTube Jimi Hendrix Crossgrade at the special reduced price of MSRP $199 / €169. More information on IK Multimedia AmpliTube Jimi Hendrix.