Peter Gabriel Launches We7 – Ad-Supported Music Downloads
Peter Gabriel has partnered with technology entrepreneur Steve Purdham and financial authority John Taysom to launch We7, a new store that will offer free music downloads "grafted" with advertisements. The new platform gives advertisers a new ad delivery mechanism that embeds the commercials onto the downloads based on a consumer's demographics such as location, age, gender and could even be extended to musical tastes. The platform is DRM free so consumers can legally share and play tracks on any MP3 player, expanding the potential for advertisers to reach even more people as they share content. The grafted ads reportedly can even change when shared to match the consumer.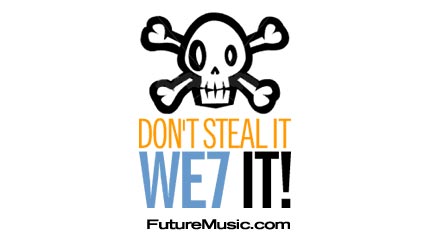 The We7 service works by dynamically grafting ads onto the front of music tracks and albums. Artists receive royalties (from the ads) for making their songs available, whilst consumers will receive and share DRM-free music legitimately making it an attractive proposition for advertisers, artists and music fans alike.
We don't know exactly how attractive this is for advertisers since placing a 10 second ad at the beginning of a We7 grafted, DRM-free, 128kb MP3 costs $0.65 to $1.30 per download. What's more important is that the ads will "time out" and won't be heard after five plays. We7 has posted free samples of the technology, including tracks from Coolio, Dave Matthews Band and Hall & Oates, on their site for review, but strangely enough, none from Gabriel himself.
Gabriel has a proven track record with music technology projects, after funding and launching OD2, the digital service provider, in 1999 OD2 was sold to Loudeye which in turn was sold to Nokia last year. Purdham founded and built global technology companies, such as SurfControl plc which was worth £1 Billion at its peak valuation. Taysom founded the Reuters Greenhouse Fund in California and his investment track record also includes a number of successful technology ventures including Yahoo! Verisign, and Advertising.com.
More information on We7.