Jamiroquai Rocks Out At 35,000 Feet
Jamiroquai performed a full-on gig on a plane to Greece from the UK that reportedly broke several world records for a concert at 35,000 feet. A specially selected audience mostly comprised of competition-winning Jamiroquai fans witnessed the Gig In The Sky and the band performed half a dozen tracks with six musicians and three backing singers.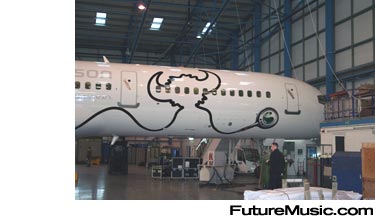 The performance was recorded by Jamiroquai's long-time sound engineer Rick Pope who used a MacBook Pro and a Focusrite Saffire PRO to capture the gig. Pope had to pull out all the tricks since the airline only took out three rows of seats, which translates into only a 10.5 x 9 foot square. Jamiroquai wanted to play about 8 cuts for the gig, and was cut short by some turbulance which mandated everyone to a seat.
Jamiroquai landed these records: highest gig in the world, the longest distance traveled during a gig and the fastest gig in the world!