Zoom Introduces H2 Digital Recorder
Samson's Zoom Division has announced the H2 Digital Recorder. The palm-sized device weighs only 4 ounces and houses three individual microphone capsules. A directional mic is in the center (mid) and two directional mics (side) are positioned left and right. The audio is decoded instantly, bringing these three signals together for what the company calls "unparalleled stereo imaging."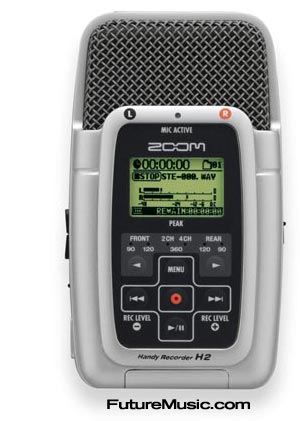 For maximum flexibility, you can record from the front or rear of the H2 and at 90° or 120° in up to 96 kHz/24-bit WAV format, as MP3 up to 320 kbps. Additionally, you can record 360° in 48kHz/24-bit format which will allow you convert your recordings to Surround 5.1. The H2 records on Secure Digital (SD) media and a 512MB SD card is included. With a 4GB SD memory card, the H2 provides up to 2 hours recording at 96kHz, 6 hours at 44.1kHz, or up to a staggering 138 hours in MP3. Store your recordings on a PC or Mac with its USB 2.0 interface. And you can use its time stamping function for reference during production. Or use the H2 as a USB Mic or digital audio interface for recording directly to a computer.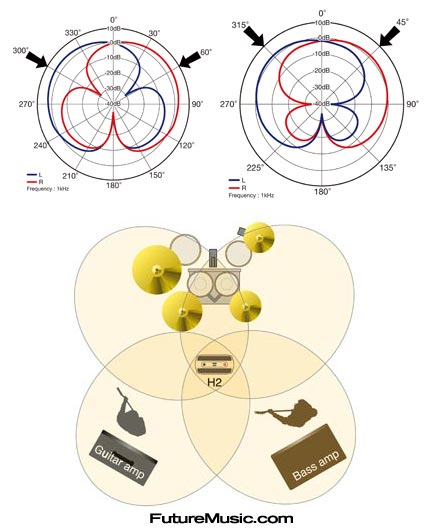 Two standard alkaline AA batteries will give you 4 hours of continuous operation. A clear, backlit display features recording levels, time code, file name and remaining battery life. LEDs indicate Front, Rear, 2 Channel or 4 Channel modes and the recording angle: 90°, 120° or 360°. An Active Mic LED is on the front and back of the H2.
Features:
• Mid-Side mic patterns with 3 mic capsules and signal processing allows Front 120° cardioid, Front 90° supercardioid, Rear 120° cardioid, Rear 90° supercardioid and 360° polar patterns
• Built-in USB 2.0 interface for data storage and audio interface
• Records in WAV 96kHz/48kHz/44.1kHz at 16-bit or 24-bit, MP3 to 320kbps and Variable Bit Rate (VBR) data formats
• Time Stamp and Track Marker functions in Broadcast WAV Format (BWF)
• 512MB SD memory card included
• Accommodates up to 4GB SD memory cards
• Auto Gain Control (AGC) for pristine recordings
• Auto Start function means you're always ready to record
• Low-cut filter eliminates wind noise
• On-board chromatic Guitar/Bass tuner
The Zoom H2 comes with a mic clip adapter, tripod stand, USB cable, an AC adapter and a 512MB SD card and will reportedly sell for around $200 beans when it bows in June. More information on the Samson Zoom H2.