Sugar Bytes Releases Unique
Sugar Bytes has released Unique, a virtual synth that specializes in what the concern calls "mighty analog" keyboard sounds and "state-of-the-art" vowel sounds. Unique features an advanced vowel filter mode and internal multi-effects with two chained FX devices. It comes with over 160 presets and offers features like LFOs with internal envelopes for fading rate and intensity, polyphonic panning, a powerful internal controllers section and more.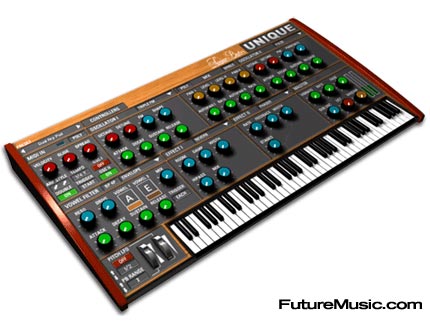 Features:
• Oscillators: Sawtooth; Triple Saw; Pulse; Triple FM; Noise (with tonal filter); Sub Sine (in master section).
• Filters: 2 Pole Highpass; 2/4 Pole Bandpass; 4 Pole Lowpass; Comb Filter.
• Each Filter can operate in Vowel Mode and contains five modulation engines to choose from: Envelope; LFO; 4 Step Sequencer; Pitchbend; Modwheel.
• Effects: Reverb; Filter Delay; Chorus; Phaser; Lo-fi; Multimode Filter; Vibrato (in master section); Auto Pan (in mix section).
• Internal Controllers: LFO; Envelope; 8 Step Sequencer; Motion (Recordable XY Field).
• External Controllers: MIDI Learn; Host Automation; Modwheel; Pitchbend; Easy Assignment via Right-click on any control.
• Unisono/Polyphonic.
• Polyphonic Glide.
• Duophonic Arpeggiator per Osc Polyphonic (Auto)Pan per Osc.
• Vowel Filter Mode.
• Two chained Multi Effects.
• Many Trigger Modes for Modulators.
Sugar Bytes Unique costs €139 and is available in VST and AU formats for Windows and Mac OS X Universal Binary. More information on Sugar Bytes Unique.