Solid State Logic Updates Duende To Version 2.0 & Releases Drumstrip Plug-In
Solid State Logic has updated their Duende software to version 2.0 and released Drumstrip, a drum processing plug-in. Based on the digital technology behind SSL's C-Series consoles, Duende delivers the complete SSL mix experience – powerful channel and dynamics processing and the legendary Stereo Bus Compressor. Duende offers complete integration into the most popular workstation environments with one simple FireWire cable connection. The processing blocks appear as VST/AU plug-ins (RTAS support via FXPansion wrapper) – including an authentic SSL channel strip with filters, E and G series EQ and dynamics processing, as well as the legendary SSL Stereo Bus Compressor.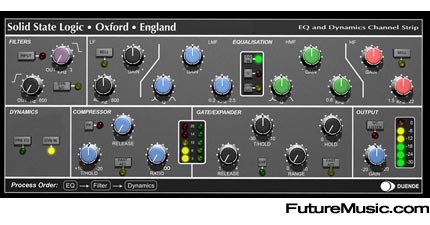 Enhancements:
• Mouse Wheel control of all Duende plug-in parameters
• Duende DSP resources are released following a freeze command in Cubase and Nuendo
• Mac: Multiple Duende GUIs now use shared host memory. This will improve host performance in some cases
• Mac: RTAS installer is now separate from VST/AU/Driver in Mac OS. This simplifies the installation procedure
• Time limited trial version of Drumstrip included in installer; the first optional plug-in for the Duende platform
Bug Fixes:
• Bus Compressor now compatible with Cubase 4.
• In some circumstances Duende VST plug-ins would not be recognized in a new install of Windows XP. This was due to software dependencies and is now fixed.
• Win: The gate/expander meters are now more accurately reporting their close status.
I• mproved DSP resource allocation.
• Previously mono and stereo Audio Unit presets were not interchangeable. This is now fixed.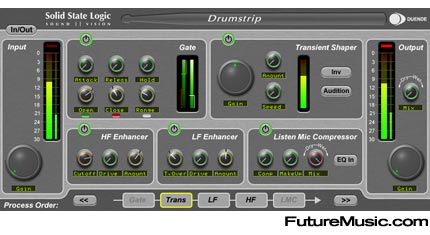 SSL claims Drumstrip takes drum sounds from ordinary to vibrant and exhilarating in a few quick, easy steps. Plug in, switch on and experiment. Drumstrip handles the hard part; putting the right selection of fantastic sounding processing tools in your hands in an instant. With Drumstrip, DAW users can attain increased presence, clarity and detail in their drum tracks; reduce spill in individual tracks; restore natural brightness; achieve greater perceived loudness; shorten or lengthen the attack and sustain of percussive signals; tighten up booming toms; make kicks and snares stand out in a mix; and parallel compress room mics.
Drumstrip Features:
• Carefully selected collection of five audio processing tools
• Transient shaper with Transient Invert to bring the attack phase of your drums to life
• Transient Shaper Audition enables you to isolate and monitor the effect of the Transient Shaper
• Dedicated drum Gate with range and independent open and close threshold controls
• High Frequency Enhancer to invigorate top end
• Low Frequency Enhancer to improve bass frequencies
• The classic SSL Listen Mic Compressor with additional bypass function to alter the legendary band-limited compression to full range compression
• Adjustable processor order – because a different processing order is required for different types of drums
• Input & Output Level metering with additional RMS meters, dynamic range indicators and threshold indicators.
Drumstrip is an optional drum processing plug-in for Duende. Please be aware that Drumstrip requires Duende in order to run. The plug-in will only install and run on Duende Hardware.