KEF Introduces Aluminum Muon Speakers
KEF, a UK speaker company, has teamed with designer Ross Lovegrove, known for the iconic original iMac design and Walkman, to create these limited edition Muon speakers.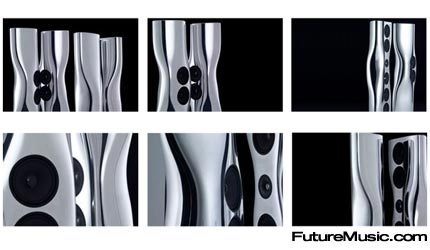 These 7 foot tall pups are "super-formed" from a solid block of aluminum using computer-aided manufacturing and take a week to create. KEF has reportedly doubled the amount of available volume that the speaker can kick through adsorption of air molecules by activated carbon. The four-way, eight-speaker setups weigh 253 lbs. each, and will retail for $140,500 / £70,000. Only 100 pairs will be made, so you better act fast…
More information on the KEF Muon Speakers.