The Baby Grand Master – DJ/VJ Rig Stuffed Into A Piano Chassis
Some products that cross our desks, make us scratch our heads, others defy any sort of reason, but somehow make it into production. The Baby Grand Master is just one of those products…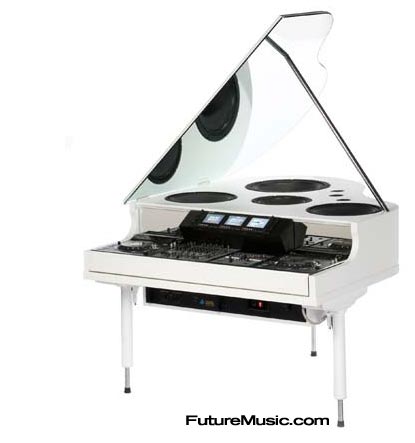 Now if Liberace was still alive and was booked for a DJ (like every other lame musician that's now DJing), this would be his rig. Here's what's under the Baby Grand Master's hood:
Video:
• Dual Pioneer DVJ-X1 DVD Players
• Edirol V-4 Video Mixer
• 3 Marshal LCD Monitors
• Slot loading assembly
Audio:
• Allen and Heath Xone 92 Audio Mixer
• Dual 15″ Subwoofers
• 18″ Subwoofer
• 12″ Subwoofer
• 3 Bullet Tweeters
• AB 1100 Watt Power Amplifier
Drivetrain:
• Moog Slip Ring Assembly
• 8 Foot Rotating Turntable
• Wall Mount Variable Speed Control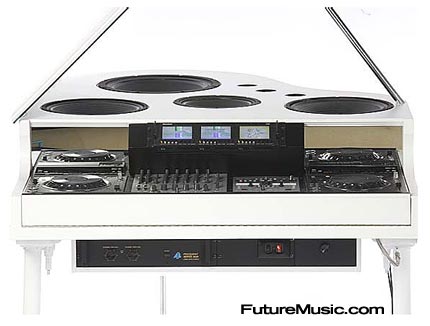 If you want to pimp it out, here's some options: Hydraulic legs and lid, Neon underlighting and running lights, High gloss lacquer finish in any color, Fog and laser assembly, Touring package… What?? No flame thrower??
According to the manufacturer, a limited number of Baby Grand Masters will be produced. Their intended market consists of VJ's, turntablists, broadway musicals, museums and collectors. Or anybody insane enough to actually want one of these, ah, things.
This is no pricing or availablity is revealed on the product website, but this puppy can't come cheap. More information on the Baby Grand Master DJ / VJ Piano.