djDecks Updates To Version 0.80
djDecks has been updated to version 0.8. djDecks is a computer mixing program for both beginning and professional dj's. This new release again fixes various bugs, improves performance and adds some new features such as using multiple midi controllers, using more than one soundcard for additional vinyl control inputs and a sampler. The improvements include search while typing in the song database, bcd2000 and dj console improvements, better unicode support and additional midi bindings.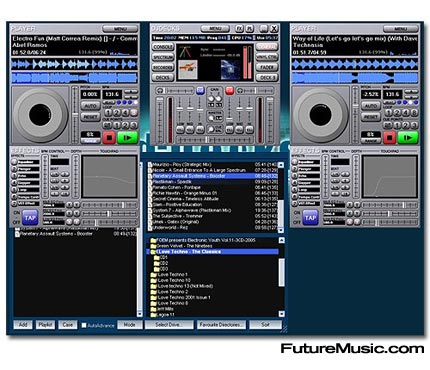 djDecks offers you up to three decks to load your songs in (2 are shown by default) and each deck has a pitch slider with a selectable range from +-8% up to +-100%. You can pre-listen the song using headphones through the rear-out of your 3d-soundcard, with a second sound card, by splitting left and right channels or by using ASIO drivers. djDecks features an advanced bpm detection and Beat-matching two songs is further enhanced by using the virtual record to speed a song up or down.
djDecks includes a high-quality three-band equalizer per player. You can configure the cut-off frequencies of each band to create cool filtering effects. You also get an advanced effect panel with effects such as echo, flanger and gapper. The software supports MP3, ogg, wma, flac, wav files and/or audio cd's easily on any configuration.
Enhancements:
• Added: Multiple MIDI devices can now be used simultaneously
• Added: Multiple soundcards can now be used for additional asio inputs
• Added: EffectBPMAligned for bpm aligned midi sliders
• Added: Search while typing to faster search for songs
• Added: Multicore processor support in BPM Detection utility
• Added: Record Cases can now be removed from within djDecks
• Added: Custom effect for the BCD2000 that can be configured for any function you want
• Added: BCD2000 option for switching between constant and increasing pich bend
• Added: Cue point storing and selection with BCD2000
• Added: Active deck visualisation in chiron skin
• Added: Tags from wav files can now be read
• Added: Drag songs from one deck to the other
• Added: First (beta) version of a sampler in djDecks
• Improved: BPM sent out through midi follows playing deck better
• Improved: Scripting engine now supports if and ifnot command
• Improved: Using multiple soundcards with DirectSound
• Improved: Selecting cue point with DJ Console
• Improved: Better Unicode support for id3 tags
• Improved: Performance of visuals
• Improved: SSL vinyl decoding performance
• Fixed: Possible crash when loading 96kHz files
• Fixed: Various bugs with third party skins
• Fixed: Some tag reading and tag database bugs
• Fixed: Problem with start of song not always loaded correctly in Streaming ASIO mode
• Fixed: Recording bug
• Fixed: Pitch smoothing settings were not applied correctly in some cases
djDecks is available now as a download for Windows. The program is free. More information on djDecks.