Audio-Technica Unveils New Shotgun Mics
Audio-Technica has unveiled a RoHS-compliant short mono shotgun microphone, the AT875 and has updated versions of the AT815b and AT835b become the new RoHS-compliant AT8015 and AT8035 shotgun models. The new BP4027 and BP4029 Stereo Shotgun models are phantom-powered models that feature independent line-cardioid and figure-of-eight elements configured in an M-S (Mid-Side) arrangement.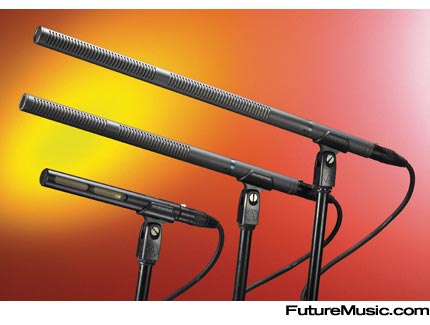 The new AT875 is a very compact at just under 7″ and phantom powered (11-52V DC). It is ideal for use in ENG and field production applications where a more concise setup is required. The AT875 is an electret condenser offering a line + gradient polar pattern and a frequency response of 100 Hz – 20 kHz. The microphone is designed to handle sound input levels up to 127 dB SPL. Its tailored low end response minimizes pickup of undesirable low frequencies. Just 6.9″ long and 0.89″ in diameter, the AT875 features an integral XLR-3M connector. The product is packaged with a windscreen, protective case, mic clip, and an adapter bushing that allows the microphone to fit the mic holders on popular DV cameras and other stands.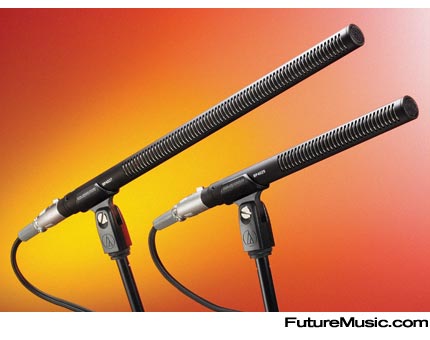 The BP4027 and BP4029 stereo shotguns provide a switch-selectable internal matrixing system, offering a selection of wide and narrow stereo (L/R) output or M-S output. A switchable low frequency roll-off filter helps minimize the pickup of unwanted low frequency noise. The models differ from one another primarily in length (BP4027 15″ long and BP4029 9″ long); they both feature a lightweight rugged design and sleek black color scheme.
With the new AT8015 and AT8035 line + gradient condenser microphones, Audio-Technica has built on the success of its AT815b and AT835b by providing the narrow acceptance angle desirable for long-distance sound pickup; they offer excellent sound rejection from the sides and rear, switchable low-frequency roll-off, and the convenience of battery or phantom operation. The new microphones are fully RoHS-compliant — free from all substances specified in the EU directive on the reduction of hazardous substances (RoHS).
These new shotgun microphones will be available Summer 2007 with U.S. MSRPs as follows: AT875 $259.00; AT8015 $259.00; AT8035 $410.00. The BP4027 and BP4029 are $1,100 each. More information on the new Audio-Technica Shotgun Mics.