Forever For Now Updates Octave Shifter To Version 2.0
Forever For Now has updated their Octave Shifter plug-in to version 2.0. The update grants the Audio Unit freeware plug-in better sound quality, a low latency processing mode and an extensive user manual available for download.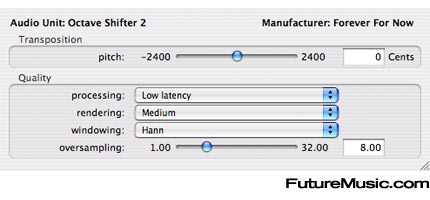 Features:
• four full octaves of pitch adjustment
• real-time, low latency processing for live performances
• high precision post-processing for studio quality results
• continuous pitch change, enables automation of pitch parameter
• new enhanced user manual
Additionally, Octave Shifter 2 makes use of the industry standard generic Cocoa and Carbon graphical interface views for Audio Units offering a seamless integration into host applications like Logic (Pro), Garageband and AU Lab.
Forever For Now's Octave Shifter 2 is free and is available now. More information on the Octave Shifter 2.