Pyrzanowski Releases keFIR
Piotr Pyrzanowski has released keFIR, a zero latency, mono, FIR filter plug-in, based on impulse responses loaded from WAV files. Filter length can be adjusted to maximum of 8K taps. It has a "mix" knob for mixing input with output, "gain" knob for setting output volume level, "length" knob for setting filter length.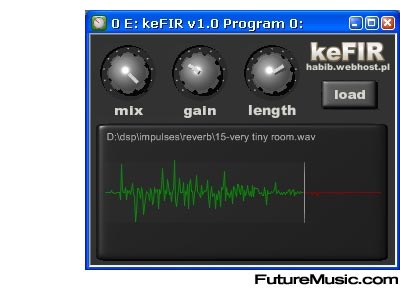 Habib, as he's know in the world of Adult Entertainment (Just kidding), originally developed keFIR as an amp cabinet emulator so he could process a guitar signal with no latency for live performance or direct input recording, but its potential can go far beyond that concept.
keFIR is available as a VST effect plug-in for Windows as Donationware. More information on the keFIR.