Mackie Announces New HR MK2 Series Monitors
Mackie has released the HRmk2 high-resolution studio monitor series. The new THX approved HR824mk2 and HR624mk2 monitors, crafted from a single piece of cast aluminum, replace their predecessors.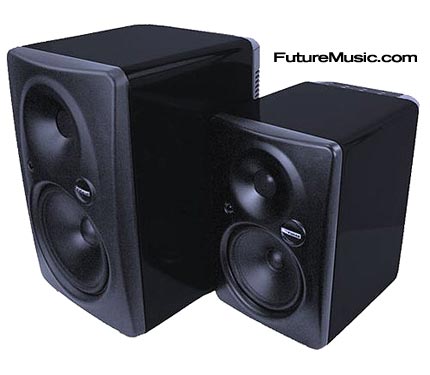 The HRmk2's new Zero Edge Baffle minimizes diffraction for a clear mix image, while its Optimized Waveguide delivers wide, even dispersion as well as full, articulate mids. Coupled with the passive radiator, the new baffle design also ensures tight, articulate bass extension. And with a real wood enclosure, the HRmk2s perform with maximum detail, clarity and warmth. The HR624mk2 features a 6.7-inch low distortion LF transducer (woofer) and a 1-inch titanium dome tweeter while the HR824mk2 has a 8.75-inch low distortion LF woofer and a 1-inch titanium dome tweeter.
The HRmk2 series will be available late June 2007. The the HR824mk2 will cost €599 and the HR624mk2, €449. More information on the Mackie HR MK2 Series Monitors.